On April 21, 2018, the NWW Multi-Level league played their mini-playoffs. For the championship and the trophy, the 1st and 2nd place teams, Libertyville and Midtown-Palatine, were ready to put into play all they learned throughout the season. Both teams had won 2 of the 4 matches they played against each other during the regular season. Midtown-Palatine slipped past Libertyille for the top spot by winning two additional sets and winning 7-5. This is the 2nd year in a row Midtown-Palatine has won the Multi-Level Mini-Playoffs. Congratulations! Glenbrook and Midtown-Bannockburn vied for 3rd and 4th place. There was a slight eligibility problem, but the matches played on. All in all, it was close. Both teams won 6 sets each. And the game scores came out to 55-54 with GRC winning. But because of the ineligible player, all points went to GRC.
Pictured from left: Martha Davis, Tomoko Sekigami, Jen Grady, Eileen Felicelli, Jenn Zientarski, Ki Kellen, Wendy Rowden, Jessica Wagner, Saree Peltin, Maureen Ahern, Erica Donofrio, Michelle Kondrat
Not pictured: Allison Biergans, Renee Buxton, Erica Eisner, Anne Feely, Pierina Ferruzza, Nicole Koviak, Debbie Lancaster, Karen Majerczak, Allyn Selesky, Joanna White, Alpna Yousfi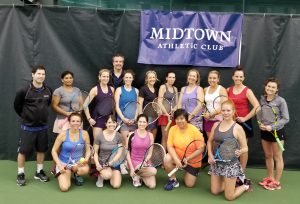 Front: Rosy Hugener, Juliana Schafer, Maura Starshak, Vina Maniquis, Kathleen Katz
Back: Coach Joey Salerno, Cheryl Cutinho, Erin Alvarez, Julia Stellar, Christine Rosenkrantz, Christine Kupfer, Cindy Yule, Mandy Shaw, Jean Sawin, Coach Mo Modesto
Far Back: Lead Coach Andy Mabadi
College Park West started the season well against Midtown-Chicago winning 11.5-6.5 but Midtown-Chicago turned the tables on them at the end of the season winning 11.5-6.5. Midtown-Chicago wins the trophy and the 2018 Champions medallions capping a solid season in this league. College Park East brought their "A" game against Five Seasons winning 15-3 and Libertyville had a decisive win against Lakeshore winning 13-5.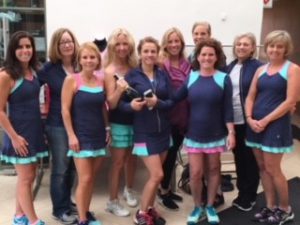 Pictured from left to right: Captain Dayna Imhoff, Sharon Henahan, Wendy Rowden, Allison Biergans, Rosy Hugener, Madelon Queenan, Donna Beechick, Kristen Bouchard, Becky Vallorano, Linda Zucco
Not pictured: Maureen Ahern, Rose Alberts, Renee Buxton, Eileen Felicelli, Liz Freeman, Keeley Hart, Donna Johnson, Shahnaz, Kelleher, Ki Kellen, Van Ann Kim, Davida Kozlowski, Karen Majerczak, Cassie Miller, Leslie Modelski, Suzanne Rich
Midtown-Palatine took the top spot away from River Trails winning 12-6. River Trails had dominated the league throughout the season but Midtown-Palatine had a decisive win against RTTC back in February so they knew they had a chance to give a repeat performance and they did! Congratulations to Midtown-Palatine's NWW 4.5 Red team.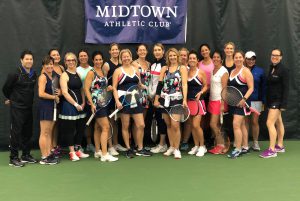 The NW Women's 3.5 Mini-Playoffs took place on April 25, 2018 with Midtown-Chicago 1 and Midtown-Palatine taking each other on for the trophy. For three years in a row Midtown-Palatine has taken the top spot in the league, but Midtown-Chicago 1 said not so fast, we want to disrupt your winning streak and put our names on the trophy. MTC 1 won 7-5 over MTP. In the other matchups, MTC 2 squeezed by LIB 2 6.5-5.5, LIB 1 overtook FSSC 9.5-2.5, NSRC kept their 7th place finish over CPAC-E 10-2, RTTC tied with RCLB in sets but came out ahead in games 52-46, and CPAC-West 2 battled it out with their sister team CPAC-West 1 with CPAC-West 2 winning 9-3.

On April 20, 2018, the Northwest Open Championship took place. North Shore 2 was competing against College Park East for the trophy. Both teams have solid lineups and looking at the match scores the matches were competitive. North Shore has pretty much locked in on this trophy except in 2014 and 2015 when College Park East won. Congratulations to North Shore 2 for their 3-peat! Midtown-Palatine edged out North Shore 1 for 3rd place. Their sets were tied but MTP won 72 to NSRC 1's 61 games. Northbrook edged out Midtown-Chicago and took the 5th place spot. And Libertyville remained in 7th place against FSSC. Great playing everyone and see you on the courts!
NW Women's 3.5 Mini-Playoffs
The Northwest Women's 3.5 season came to an end on April 26th with mini-playoffs played by all teams in the league. After 13 weeks of matches, the top 2 teams vie for the trophy with the rest of the teams trying for one last win. For the 3rd year in a row, Midtown-Palatine won the NWW3.5 mini-playoffs with a decisive win over College Park. This is the 2nd year in a row that Midtown-Palatine and College Park East faced off against each other in the mini-playoffs. Last year, Midtown-Palatine was in 2nd place going into the mini-playoffs and took the top spot from CPAC-E. This year, from the end of October on, Midtown-Palatine held on to the #1 spot for the rest of the season. The other matchups were as follows: Midtown-Chicago kept their #3 spot against Libertyville 2. Libertyville 1 moved ahead of Glenbrook taking the #5 spot. Lincolnshire won against North Shore for #7 and #8 respectively and Five Seasons and RC Lake Bluff finished off the pairings with FSSC over RCLB.
On April 22, 2017, the Northwest Women's Multi-Level league will play mini-playoffs to cap the season. There are 4 teams in this league. For the third year in a row #1 Midtown-Palatine and #2 Glenbrook will be playing for the trophy. Two years ago MTP won by 3 games and last year GRC won 8.5-3.5. The other matchup is #3 Libertyville vs. #4 Midtown-Bannockburn.
On April 21, 2017, the Northwest Women's Open will play mini-playoffs to cap the season. There are 11 teams in this league. For the third year in a row #1 North Shore 2 and #2 College Park East will be playing for the trophy. Two years ago CPAC-E won and last year NSRC 2 won (by 7 games no less). The other matchups are as follows: Midtown-Palatine vs. Glenbrook; North Shore 1 vs. Midtown-Chicago; Libertyville vs Five Seasons; Northbrook vs. River Trails; and RC Lake Bluff (Bye).
The season started with College Park in 1st place after the 1st match and Midtown-Palatine in 3rd place. As the season went on there came to be a 3-way tie between CPAC-East, GRC and MTP. As it happened, on that date, CPAC-East and MTP played against each other and MTP won that matchup 7.5-4.5 which gave them the points needed for the tie. Fast forward to the end of the season – College Park East was in 1st place and Midtown-Palatine in 2nd place except this time they were playing for the trophy. Last year Midtown-Palatine wrested the #1 spot from North Shore. And this year they did the same against College Park East winning 8.5-3.5. On court 1 CPAC's Nikki Krakowski/Tiffany Simanek bested MTP's Davida Kozlowski/Beth Zawilenski 6-1, 6-2, 6-3. On court 2, MTP's Erica Donofrio/Allyn Selesky squeaked out a 1st set tie-breaker win over CPAC's Stephanie Cohen/Heather Curtis then burst out with a 6-2, 1-0 win. On court 3 MTP's Bev Vacval/Sally Fessenden won against CPAC's Karen Borgerding/Susan Chaplik 7-5, 6-1, 6-4 and on court 4 MTP's Elizabeth Jiminez/Alicia Tisbo won gainst CPAC's Angelee Boyd, Anne Douglas.
Last year, Midtown-Palatine came away with the trophy against Glenbrook. This year it was Glenbrook's turn. Glenbrook won courts 1, 2 and 3 and Midtown-Palatine took court 4. This league has a variety of levels so on match day one team may have a decisive win over the other and the next time they play it's the other team's turn to win. Nice playing everyone!
Member Services
Our CITA Northwest Leagues start with the Women's Open league on September 11th. Our Open level league has some high caliber players who are fun to watch and make you aspire for more for yourself. On Saturdays, our women's multi-level league is available for women who work during the day but still want to keep up their game with some competitive tennis. On Wednesdays, the NW Women's 3.5 play and on Fridays, the NW Women's 4.5 play. Contact Ann Taylor for more information or click on "Club" to find a club near you.
As a reminder: Please contact the individual clubs to determine if Child Care Services are available at that club.
You can all be willing participants in the quest to reduce your environmental footprint by bringing your worn out athletic shoes to the clubs who are participating in Nike's Reuse-A-Shoe program. College Park Athletic Club, Five Seasons Family Sports Club, Glenbrook Racquet Club, North Shore Racquet Club and Northbrook Racquet Club have made the commitment to collect shoes throughout the year. Once collected, shoes that are gently used are separated and given to Share Your Soles, a not-for-profit organization (http://shareyoursoles.org/) and the rest are sent to Nike's facility in Tennessee where they are shredded and turned in to "Regrind", which is then used for playgrounds and sports courts.
Be green and bring your shoes in to the clubs mentioned above.  Then go buy another pair of shoes from them!
The Chicagoland Indoor Tennis Association (CITA) has embarked on creating our own database.  The following is a quick overview of the site:
Home:  The Home page is the first thing you will see when you enter www.citatennis.net.  You will be in the North/Central Home page.  The Home page provides you with the ability to see the Standings and the Scores  of the matches.  It will give you the Latest News and it will provide you with General Information under Member Services.  Up at the top right hand corner you will see Northwest and Login.  If you click on Northwest, you will be taken to the Northwest Division Home page.  Login is for the Captains of the teams.  The Login allows the captains to input their lineups, scores, players and other administrative tasks.
North/West League:  The North/WestLeague tab lists all the leagues on the left hand side.  If you click on one of the leagues, you will see the Standings and Schedule change accordingly.  Under Standings, you will see from left-to-right, Teams, Percentage, Won, Lost, Weeks and a date (if a match has been played).  The Teams are the Clubs who have a team in the league.  Pct. or Percentage give you the win percentage.  So, if each match is worth a possible 18 points and the team won 10 points out of 18 points, the win percentage will read 55.56%.  Won and Lost are the points won or lost.  It will add up the points from match to match.  Weeks indicate the number of matches each team will play.  In some cases you will see a team play 12 weeks in stead of 13 weeks.  This is due to the Byes.  Lastly, Date of Match will show the points from the match.  If you put your mouse arrow over the box you will see it highlight.  Click on the box and a Score Detail will show up in a separate tab in your browser.
Clubs:  The Chicagoland Indoor Tennis Association's member clubs are shown on the left hand side.  If you click on one of the clubs, it will provide you with the Club's address, phone number, web address, directions, schedules for all the teams associated with the club, along with club rosters, and club standings.
News:  Provides you with the Latest News as seen on the Home Page but in a slightly different format.
Forms:  Provides you with the ability to print out the rules in a .pdf format.  There is a scoring sample for Singles matches as well.
Archive Results:  Provides you with information from the previous year in a similar format as the current year.
Rules:  Provides you with our current rules.  Several rules changed this year.  It is always a good idea to review the rules.
Contact:  Provides you with the Executive Director's contact information.